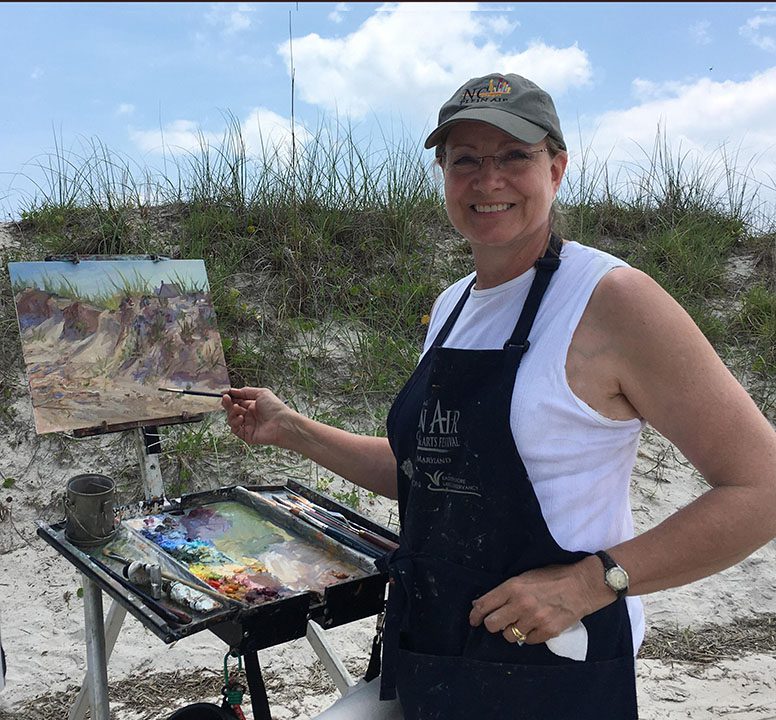 Oils
Karen Lee Crenshaw has been drawing "since she used to scribble on the walls as a child." Karen has lived in Jacksonville, NC for the last seventeen years where she maintains Crenshaw Art Studio in her home and at ArtExposure in Hampstead, NC. She was one of our first artists to rent a studio at ArtExposure and her plein air painting of the Surf City Swing Bridge was the very first sale made once it opened.
Karen has been accepting portrait commissions for many years and specializes in portraits of women and children. Her work is traditional and lifelike, yet it maintains a painterly quality. She enjoys providing her clients with an heirloom that will last for many generations. "I especially love working with children and capturing that innocence that seems to pass so quickly," the artist says.
When she is not working on portraits, you can find her painting landscapes either in the studio or outdoors, "en plein air." She regularly paints with the Onslow Outdoor Painter's Society (OOPS!) and other artists who share her love of painting from life. "I am particularly intrigued by the pinkish-blue tones of the early morning light and the amber light of late afternoon. When the sun is low on the horizon, it creates wonderful contrasts of forms and oblique angles and shapes. I'm always looking for a dynamic abstract pattern on which to base the composition," she explains.
Karen's landscapes were selected for reproduction in a recent book, "Painting North Carolina, A Visual Journey," by Kimberly Maselli. Her work joins those of 32 regionally and nationally known landscape painters who have depicted the beauty of North Carolina from the mountains to the coast.
Karen was born in South Dakota and grew up in West Virginia where she obtained a B.S. in Art Education from Concord College. After teaching in Rockbridge County, VA, she returned to her studies at George Washington University in Washington, DC, earning a Master of Fine Arts in Painting. Her paintings have been exhibited and have won awards in New York City, West Virginia, Virginia, North Carolina and Washington, DC.