ArtExposure a great variety of workshops for both adults and teens. New workshops are constantly being added to our calendar, so please revisit our site regularly to stay updated. When you join a workshop at ArtExposure, you can rest assured that one of our professional studio artists will guide you through the creative process from concept to completion!
Workshops are for adults and teens age 16 years or over.
---
---
STARRY PUMPKIN KITTY
Paint N' Sip Saturday Workshop!
with Sabine Baeckmann – Saturday, October 21st 2023 from 1pm to 4pm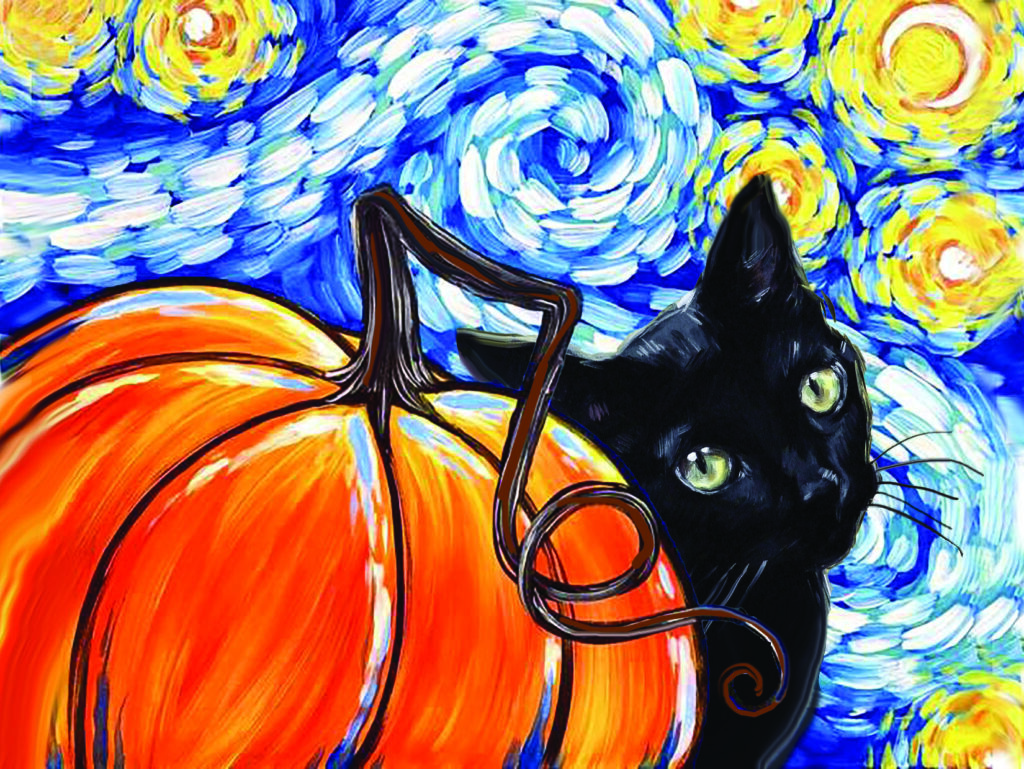 It's Pumpkin time!
Don't you love the Fall? It brings crisp starry nights and the sweet smell of pumpkin spice. Not to mention kids in costumes asking for treats and little black cats playing tricks. Why not have some fun painting this adorable black kitty peaking from behind a plump pumpkin on a clear starry night in acrylics under Sabine's guidance? Your finished masterpiece will go perfectly with all your fall decorations!
Bring a snack and beverage if you're inclined to nibble and sip while you paint! All art materials included.
Starry Pumpkin Kitty
Paint N' Sip -10/21/23
---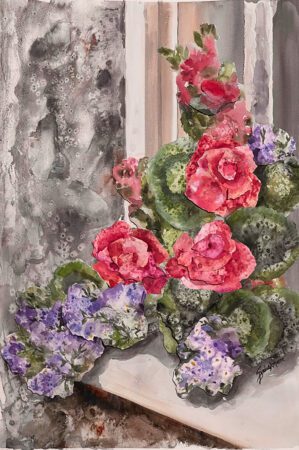 Torn Watercolor Paper Two-Day Workshop
NEW DATES TO COME
Back by popular demand – This workshop is open to adults and 15 yrs. or older art students with experience in working in watercolors and/or gouache.
Enjoy a new approach to creating a watercolor "painting" using watercolor or gouache, watercolor paper, and a host of other materials to create imaginative textures and effects. No scissors allowed!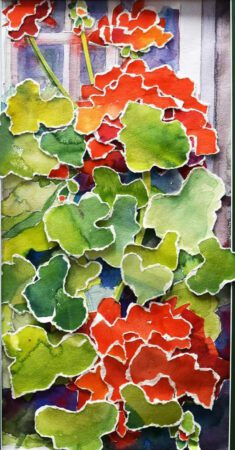 Day One:
Watercolor paper prep using paint and other materials such as various salts, alcohol, burlap, wax paper, plastic wrap, sponges, and more. Preparation of the painting background as time allows. Demonstration of what's to come on Day Two.
(There will be a one hour break for lunch)
Day Two:
Review of some composition and design basics. There will be an overview of the project's construction process, including how to tear, building layers, and applying accents and finishing touches. Then, let the tearing begin!
(There will be a one hour break for lunch)
Materials to bring:
• Your watercolors – Tubes are preferable for ease of use, but pans will work as well.
You can purchase watercolor tubes at ArtExposure if needed.
• Your watercolor brushes and palette
• A MINIMUM of 2 sheets of 22" x 30" 140 lb. cold pressed watercolor paper. Bring more if you think you'll need it. Watercolor paper pads are NOT recommended for this project.
You can purchase watercolor sheets at ArtExposure if needed.
• Masking tape and a board to tape down your project. (Some board is available at ArtExposure, but may not be big enough to accommodate your project)
• Your Lunch and beverage of choice! Microwave and refrigerator on premises.
Optional:
Although everything else will be provided to finish your painting during the workshop, here are some things you may want to bring for your project:
• Masking Fluid/Masking pen
• Bring anything that may make a texture such as textured fabrics, sand, string, wrinkled papers, etc. to use and share.
• A concept image or drawing for reference
• Any larger-size mat that you might want to use.
• A smock or apron OR just wear clothes that can get "artsy."
• Snacks if you're prone to nibbling while you work.
Torn Watercolor Workshop
2 Days with Sabine Baeckmann-Murray